WE HOST THE BEST LIVE MUSIC IN DALLAS TEXAS
WE HOST THE BEST LIVE MUSIC IN DALLAS TEXAS
About Three Links Deep Ellum
Nestled in the heart of Dallas's vibrant entertainment district, Three Links Deep Ellum stands as a testament to the city's electrifying spirit and unwavering passion for live music. Since its inception, this haven for music enthusiasts and nightlife seekers has been a cornerstone of Dallas's cultural landscape, providing a platform for both local talent and touring acts to showcase their artistry.
Three Links Deep Ellum is more than just a bar; it's an immersive experience that ignites the senses and leaves an indelible mark on the soul. With its eclectic mix of musical genres, from soulful blues and jazz to high-energy rock and electronic beats, there's something for every taste and preference to savor.
Stepping into Three Links Deep Ellum is like stepping into a world where music reigns supreme. The air is alive with pulsating rhythms and captivating melodies, creating an atmosphere that is both electrifying and mesmerizing. The stage, bathed in the warm glow of the spotlight, becomes the focal point of the venue, where artists pour their hearts and souls into their performances, leaving the audience spellbound.
Beyond the music, Three Links Deep Ellum offers a cultural oasis that tantalizes your senses and broadens your horizons. A unique experience and wide selection of beers cater to every taste, while the vibrant atmosphere provides the perfect backdrop for socializing and creating memories that will last a lifetime.
As the sun sets and the city lights twinkle, Three Links Deep Ellum transforms into a pulsating nightlife hub, where the rhythm of the music fills the air and energy levels soar. Mingling with fellow music lovers, dancing the night away to the infectious beats, and creating unforgettable experiences become the norm, forging a sense of community that transcends boundaries.
Three Links Deep Ellum is more than just a bar; it's an embodiment of Dallas's spirit – a place where music, culture, and endless possibilities converge. It's a sanctuary for those seeking an escape from the ordinary, a place to immerse oneself in the raw energy of live music, and a catalyst for creating memories that will echo through time.
So, if you're seeking an electrifying musical journey, an unforgettable nightlife experience, and a taste of Dallas's vibrant culture, Three Links Deep Ellum is the destination for you. Let the rhythm guide you, lose yourself in the music and create memories that will forever be etched in your heart.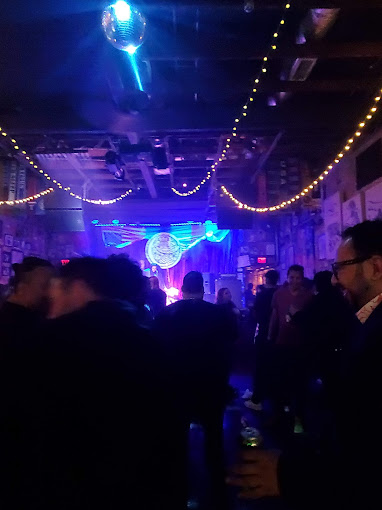 Robert Svensson
October 20, 2023
Awesome live venue
Reagan Hillier
October 12, 2023
Fantastic spot in Deep Ellum. Amazing energy, live music, nice bar and friendly staff. If you're looking for something unique in Dallas this is the place. Have seen several live bands here and never disappoints. One of the most unique and local places in Dallas for good drinks, great music and interesting people.
Ryan Hoffman
October 3, 2023
Cozy bar and venue with great beer selection and excellent bands. Very accepting atmosphere.
Tawsha Brinkley-Davenport
October 3, 2023
Great little place for a band